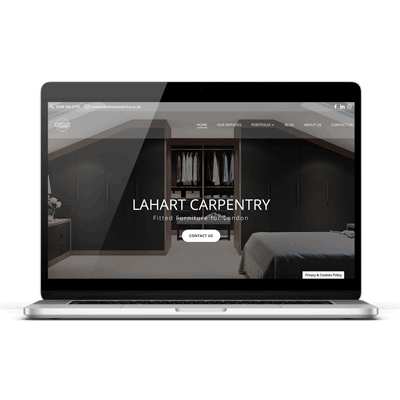 We were contacted by Lahart Carpentry, a bespoke carpentry company in London.
They wanted to build a new website to replace out the very basic website they had for years. They wanted the site to provide examples of the type of work they produce and allow visitors to get ideas for their own projects.
They also wanted a simple logo that they could use across social platforms and for their company branding.

We mapped out and proposed a new layout encompassing all the elements that Lahart Carpentry required, but with an improved re-marketing strategy within the site to keep users engaged.
We created multiple logo options and finalised one to suit Lahart Carpentry's preferences.
Lahart Carpentry were also no longer getting the background tech support from their previous IT company, so we moved their site and domain to a new host so that they could easily communicate and resolve any future requirements.
Further we took steps to secure their website and ensure it was GDPR compliant.